With the arrival of our staff, we spared no time and immediately started with awaking camp from long a winter slumber. Due to strong spring storms we found camp with large amounts of down trees, branches and even some roof damage. The brush has been cleared, the docks have been put in, and, most importantly, the heaters are installed – ready for that first dip in Trout Lake. There is a lot that still has to be done! 
Counselors are continuing their training and are well on their way to receiving those vital certifications to make this summer the best it can be for all the boys coming down the driveway next week. They will soon receive their cabin placements and depart for the counselor camping trip to refresh those RAC camping standards. Everything's coming together nicely, and with every passing day, we grow more excited to see all those smiling faces once again. 
Trout Lake is getting warmer and warmer with each new day, and the Northwoods sunshine is bathing the Quad and athletic field with warm, seventy-degree weather. The calls of the loons can be heard. In their time working together, the staff is growing closer, and are taking ample time to play some basketball, flag football, and even some ping pong; or, if the mood hits just right, they'll take a relaxing seat on the Cedars porch, looking forward to when the Quad will be full of bright, enthusiastic campers.
One of our favorite things about the Quad is its different moods throughout the day, and how the weather helps it transition between them. The crisp mornings will glisten with the sun's rays cutting through the branches and needles; a light fog will roll in lazily from the lake. As camp wakes itself up alongside the campers and counselors, it may become bright and excited under a cloudless sky, or it may grow dark and restful under a thunderstorm approaching over the treeline. The pines overhead start to slowly sway back and forth, grabbing onto one another with their branches. On calmer days, those same trees are the ones that provide the necessary shade protecting us on those hot, sweaty afternoons before supper.
How to Stay Engaged During The Summer
This summer will provide our campers with a once-in-a-lifetime experience, and we want to share those experiences with you. This summer, we will be updating the Red Arrow Camp website several times a week with new photo albums, updates, and posts. Be sure to check back in with us throughout the weeks ahead so that you don't miss a single moment at camp. We also will be posting updates on Facebook and Instagram. If you aren't following us on there yet, be sure to do so!
As far as communication goes, we're requesting that emails be sent to the following address as much as possible: summeroffice@redarrowcamp.com. This will allow us to best manage our time, and we'll be passing things to Eric and Jolene whenever it's most appropriate. The office will be open during the day between breakfast and dinner. The office phone number is 715-385-2769, please feel free to reach out with any questions you might have! We will get back to you within 24 hours if contacted outside of normal business hours. As always, we encourage you to write letters to our campers! They love hearing from you, all we ask is that you keep the maximum number of letters per week to 3 in order for them to get the most out of their time away. If your camper has a birthday over the summer, send me an email a couple of days in advance and we'll be happy to schedule a phone call with them!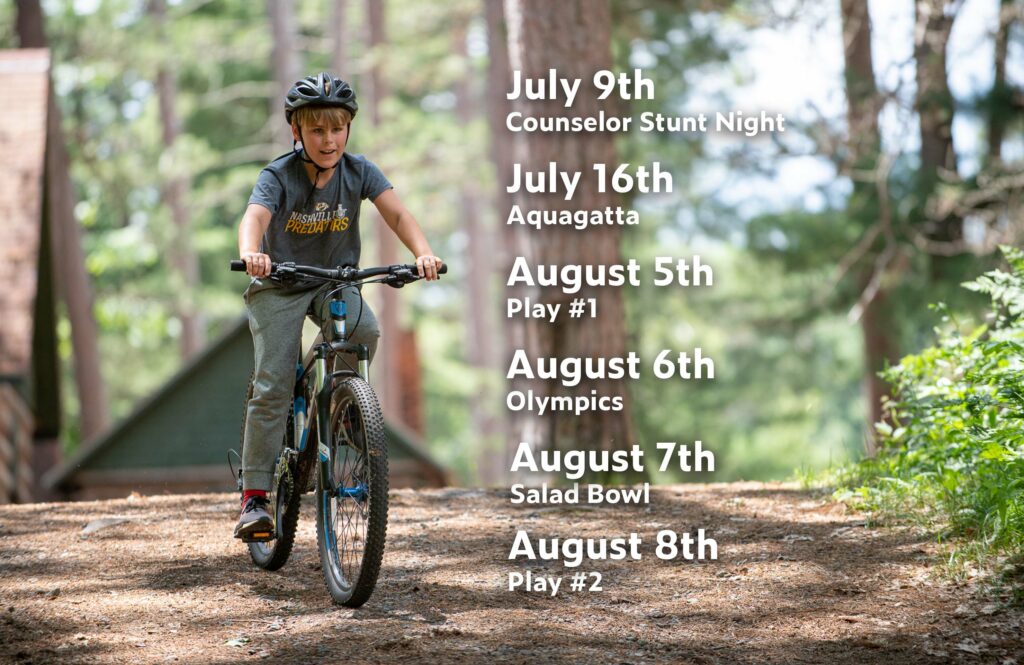 Come Visit! Plan Your Trip To Camp
Camp will be open to our beloved alumni, parents and guests this summer! After over two years of Red Arrow being closed to guests because of COVID, we welcome guests to come see our Sunday Chapel Services, special days and end of camp festivities. Traditionally, we keep camp closed for the first two weeks of camp so that the boys can acclimate to their new life at Red Arrow – we ask everyone in our community to honor that this summer as well. Here is the schedule for the special days this summer:
June 22 – Camp Begins!
The busses roll down the driveway at 4pm followed by our first dinner together.
July 4th – July 4th Celebration (Closed to Guests)
At Red Arrow Camp, the Fourth of July kicks off with a morning wake-up call featuring characters in full Revolutionary War period dress. The day continues with fun contests (many quite messy!) and everyone's favorite — an "ultimate" game of Capture the Flag. A cookout at the lake is followed by the arrival of a neighboring girls' camp for a dance in the Rec Hall. A spectacular fireworks display closes out the evening.
July 9th – Counselor Stunt Night (Come Visit! Opens at 7PM)
On this evening, the Counselors put on an 'SNL' for the campers and guests.
July 11th – Canadian Wilderness Trip Departs (Closed to Guests)
The oldest boys in camp depart on a 10 day whitewater canoe trip up in Ontario, Canada.
July 16th – Aquagatta (Afternoon: Come Visit! After 2:30PM)
During Aquagatta — a very special day of the summer — campers are assigned to one of four teams and spend the day competing in water-focused contests. After a special wake-up, each camper dons his "war paint" before heading out for the first contest of the day: a treasure hunt complete with coded clues for all age groups. We dedicate portions of the day with acknowledgment to our Native American historical roots and an appreciation of those who came before us. The afternoon brings many fun, zany water contests and ends with the famous water slide ball toss. The evening is capped by a celebration featuring root beer floats for all teams!
August 5th – Camp Play #1 (Come Visit! 7:30PM)
The Camp Play is the biggest special event at Red Arrow. During the last two weeks of camp, everyone who wishes to be a part of the play — a fun, musical production — practices during their rest period and free time. Several hundred people (parents, friends, neighbors) attend the boys' standing-room-only productions over the course of two evenings.
August 6th – Olympics (Come Visit! Starts 9:00AM)
RAC's "Olympics" are held on the last Saturday of camp. The camp is divided into four nations, with each boy sporting a t-shirt representing his country. Boys compete in track events, swimming, sailing, skiing, horseback riding, wrestling, rifle, archery, trap, basketball, soccer, floor hockey, and more. The evening concludes with an awards ceremony where event winners are given gold, silver, and bronze medals
August 7th – Final Chapel Service & Salad Bowl (Come Visit! Starts at 11AM)
The Salad Bowl is our flag football version of the Super Bowl. Held on the last Sunday of camp, this event is open to parents and friends of RAC. In the week leading up to the game, campers are divided into an upper and lower division and practice with their team. We kick off the event with a special tailgate lunch, and the two flag football games follow. The event ends with a steak fry celebration.
August 8th – Camp Play #2 (Come Visit! 7:30PM)
The Camp Play is the biggest special event at Red Arrow. During the last two weeks of camp, everyone who wishes to be a part of the play — a fun, musical production — practices during their rest period and free time. Several hundred people (parents, friends, neighbors) attend the boys' standing-room-only productions over the course of two evenings.
August 10th – Closing Ceremonies (Come Visit! 6:30AM)
Closing ceremonies starts early in the morning. This is when we award the Honor Campers of the summer, the Friendship cut and the Pete Johnson Award.
After Camp Festivities - 100th Anniversary Celebration
100 years ago, Clarence "Razz" Rasmussen had an idea for a boys camp in the Northwoods.  Thanks to his vision, countless boys over multiple generations have had the privilege of experiencing a magical summer on the shores of Trout Lake.  We hope you will join us in August of 2022 to celebrate 100 years of friendship, fellowship and fun.  
If you plan on attending the 100th anniversary celebration please GET YOUR TICKET NOW at:
https://www.eventcreate.com/e/rac100 and check out the schedule for the weekend!