Explore the Past & Present
<! ========= Cool Timeline PRO 3.2 =========>
Pre-1800s

1850s

1920s

1930s and 40s

1950s

1960s

1990s and Beyond
Pre-1800s

Red Arrow Camp on the shore of beautiful Trout Lake in Northern Wisconsin was founded in 1920, but the site has a fascinating history predating camp. Records show that RAC's current location was the site of an established Native American village well before the 1800s. The many authentic arrowheads, which to this day are still found by campers at Red Arrow, further attest to the early presence of the Native American village. In that same era, traders came to Trout Lake and established a Hudson Bay Trading Post located within a stone's throw of the Native American village site. Rocks from the foundation of this trading post are still visible between Red Arrow's mess hall and lakeshore.

1850s

The middle 1850s saw the boom of the logging business, and in the 1870s, the Courtney-Wright lumber company of Merrill, Wisconsin began to log the Trout Lake area, establishing their camp on the future site of Red Arrow. Courtney-Wright was a very prosperous company and they built some wonderful accommodations for their lumberjacks. Five of these beautiful log buildings are still a part of RAC today: making up the mess hall, rec hall, and infirmary. In the early 1900s — between the lumberjack era and the founding of Red Arrow Camp —  these log buildings were the basis of a fine resort called Williams Resort.

1920s

In 1920, Clarence "Razz" Rasmussen — a history teacher and coach from Country Day School in Milwaukee — started a boys' camp on this former Native American village-lumber company-resort site on Trout Lake. Because Razz was very popular among his students' parents, many offered to financially back this venture; so, Razz was able to hire Finnish lumberjacks from Michigan's Upper Peninsula to construct the beautiful log cabins that still house Red Arrow campers and counselors today. Razz enlisted the help of Paul "PWW" Waterman — the business manager and a math teacher at Milwaukee Country Day — and Rollie Williams, a recent graduate and former athlete at the University of Wisconsin, to help him provide the perfect summer experience for campers.

1930s and 40s

Soon after Razz got married in 1937, both he and Rollie reported for war duty, which left PWW in charge of the camp. PWW purchased the camp from Razz in 1948 and continued to run it until 1953. Unfortunately, with Razz gone, there wasn't enough money to properly maintain the camp's facilities, and the camp suffered during this period.

1950s

In 1953, Charlie Boesel, a former student at Milwaukee Country Day and former counselor at Red Arrow, purchased the camp from PWW. Charlie had money and a long-standing love for the camp. He was also dedicated to making major improvements to the camp while continuing to preserve its traditions.

1960s

In the mid-sixties, Charlie's health began to fail and he began to search for someone to take over his beloved Red Arrow Camp. In 1967, fate brought him a young couple — Bob and Sue Krohn —  who were teachers and had extensive camping experience as well. They agreed to come to RAC that summer and ended up purchasing the camp. From 1968 until 2012, Bob and Sue owned and operated camp, providing a very happy marriage of tradition, experience, education, and energy. 

1990s and Beyond

In August of 1995, Bob and Sue Krohn hosted a celebration weekend marking the 75th anniversary of Red Arrow. More than 150 former campers, counselors, nurses, store managers, and maintenance men traveled back to Red Arrow for the event. On Saturday evening, the Boesel Foundation — the Red Arrow group that awards camp scholarships — hosted a reception before the evening banquet. Old and new friends reminisced and gathered for a historic all-camp photograph. As the men settled in, a rousing rendition of "The Drinking Song" got the meal off to a grand start. The weekend was a most fitting way to celebrate RAC's first 75 years and to look forward to many more to come.
<! ========= Cool Timeline PRO 3.2 =========>
Cabin A

Cabin B

Cabin C

Cabin D

Cabin E

The Burned Down Cabin

Cabin F

Cedars

Cabin G

Cabin H

Between Cabin H and Castle

Castle

Between Castle and the Mess Hall

Manor

Chalet

Chateau
The Burned Down Cabin

Between current Cabins E and F used to sit another cabin, which we refer to as the "Burned Down Cabin." This cabin burned down during Milwaukee Country Day's football camp in 1966.

Between Cabin H and Castle

This space was home to the original Cabin H. After the reshuffle of Cabin D, it became Cabin I. Then, in 1965, it became the current Manor.

Manor

A shoddy Cabin K — probably built around 1944 — used to stand in this location. It seems to have been torn down after the current Chalet was built sometime after 1952. In 1965, Cabin I was moved to this location and referred to as Cabin J for a few years until the Krohns christened it the "Manor."

Chateau

Chateau is our most senior cabin, and perhaps the most special and iconic of all the cabins at Red Arrow Camp. Chateau is the only cabin with its own private fireplace, fire pit, and swim raft. When they're not away from Red Arrow on an incredible camping trip, our senior camper leaders call Chateau home.
Songbook and Chapel Talks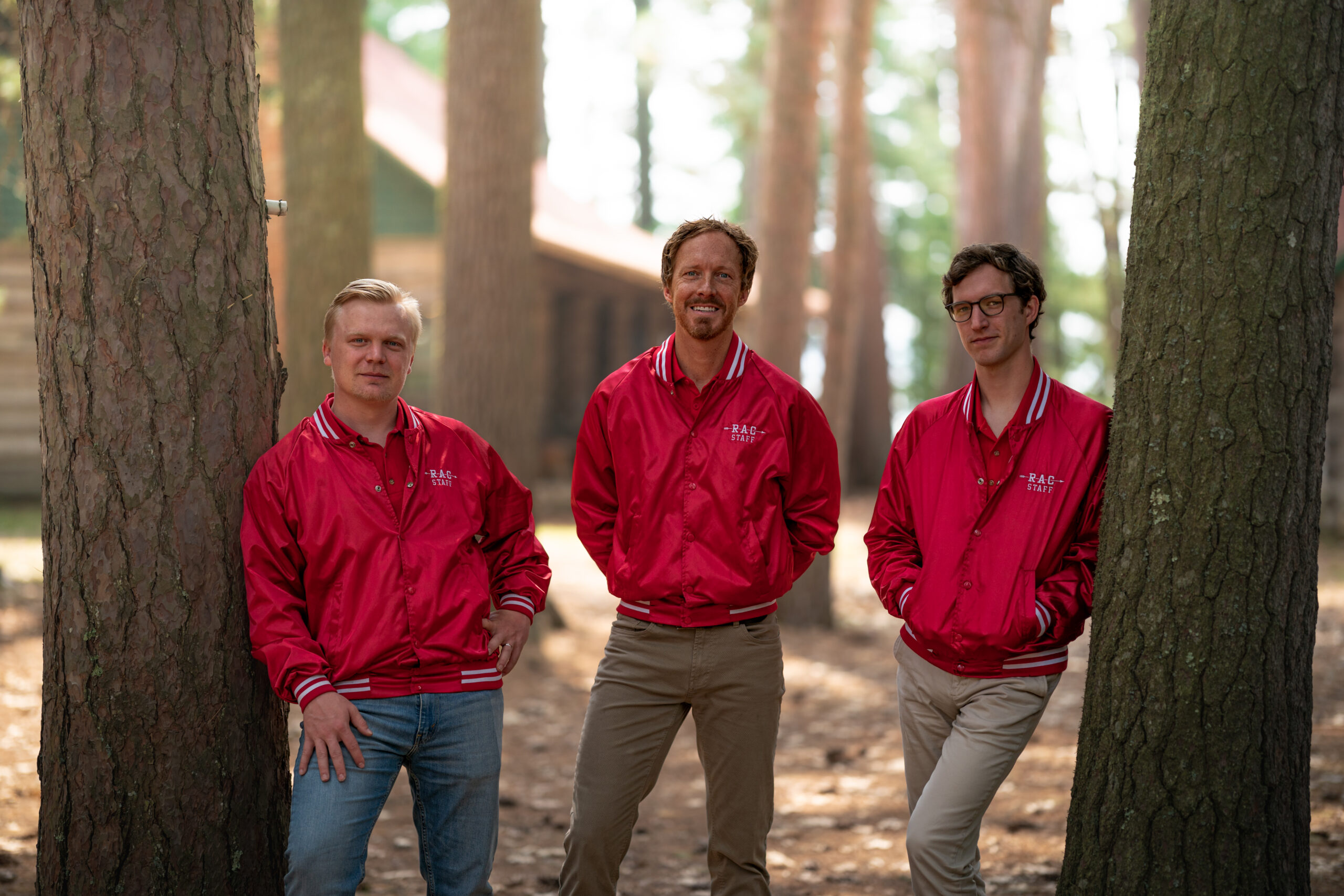 June 20, 2023
Left to Right: McKenzie Beeby (Associate Director | Over 20 years experience)Eric Roche (Executive Director…
Load More