One man, no matter how exceptional, does not a camp make, and new Director Clarence "Razz" Rasmussen knew this. To help him provide the perfect summer experience for his boys, Razz enlisted the help of several key men. Paul Waterman, business manager for Milwaukee Country Day School, (MCD), was invited to be co-director, along with Rollie Williams, a young college student well known in the state as the University of Wisconsin's first nine letter athlete. Whether these men held a financial stake in the camp is not clear; in any case they were invaluable. Razz picked them carefully and strategically. While Razz was the general Director and inspirational leader of camp, PWW (as Paul Waterman was called) was essential as the practical, financially savvy business manager (Razz had no sense of money). Waterman was also very respected in the Country Day community. Rollie's role was the athletic program director and hands on coach.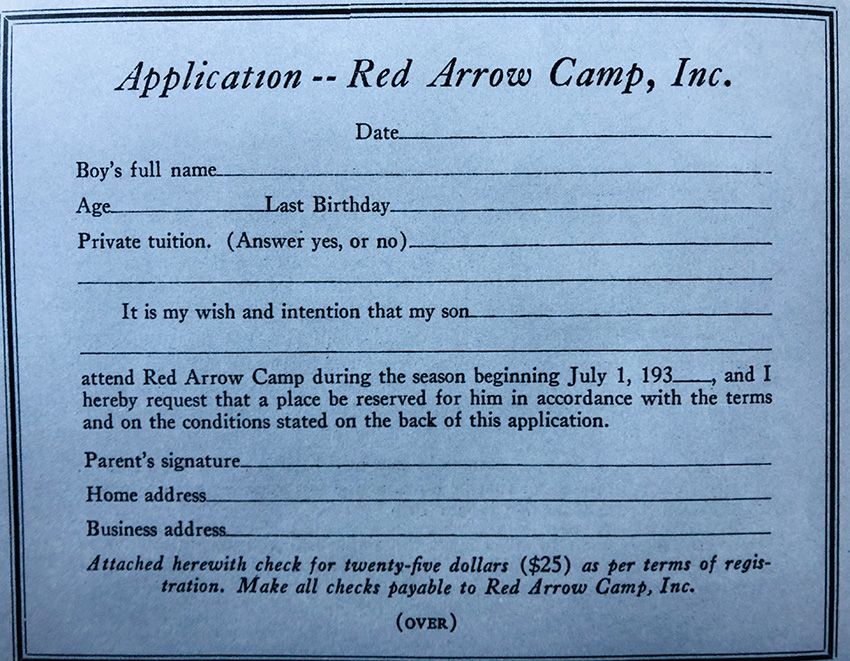 Though a bit younger then Razz and PWW, having just graduated from college in 1922, Rollie was critical to the camp's credibility as a superior athletic camp. Not only would he himself teach sports but he also attracted other young star athletes to the camp staff. Together, Razz, Paul, and Rollie were a compelling team to ensure the future of Red Arrow.
Other crucial recruits who became central characters in the years to come with Cal Cooper (Woodworking), Red Hauer (Cook and Maintenance man), Kluge (Waterfront oversight), Herb Hirschboeck (Camp Play), Mert Lean (Program Director and Head Counselor) and Dutch Reinhardt, Rollie Williams brother in law who was at first a camp boy "flunky", stayed on for 6 decades as counselor and tripping Director, the longest tenure of all. In addition to Senior Staff Razz recruited many young cabin counselors from the Milwaukee Country Day school primarily.
When the trainload of boys arrived in the summer of 1922 (camp remember was purchased in 1920), they road trains up from Chicago and Milwaukee. Because of Razz's connections there, the majority of campers in those years came from Milwaukee Country Day School, but a number of others came from areas around Milwaukee, and from Chicago and its suburbs. All the campers gathered at the Chicago or Milwaukee train stations where two of the directors were present to greet them and escort them on the trip north. Some have mentioned that in the early days Red Arrow actually hired a private rail car complete with sleeping berths with an upper and lower bunk. There was not much sleep going on during the journey however with anxious anticipation of arriving at camp! The boys would leave the Milwaukee train station at eight in the evening and arrive in Woodruff the next day by sunrise.
That first year tuition for the 8 week session (later changed to 7 weeks) was $225 dollars. There were an estimated 25-30 campers that first summer with staff, cooks and all, probably 40 people lived at camp.